FIBARO "Home Center 2" pagrindinis valdiklis yra sistemos "smegenys", kuris komunikuoja su visais tinkle esančiais Z-Wave prietaisais.  Šis valdiklis buvo sukurtas tam, kad būtų galima įgyvendinti daug unikalių savybių, kurių iki šiol nebuvo panašaus tipo prietaisuose. "Home Center 2" naujai apibrėžia Z-Wave pagrindu veikiančios protingo namo sistemos principus ir praplečia jos galimybes.
Kaina 649€
Web-Accessible Z-Wave Smart Home Hub
Build out a world-class Z-Wave smart home automation and security system with the Fibaro Z-Wave Home Center 2. This router-like Z-Wave controller serves as the command center for your entire smart home network, providing an intuitive user interface on any computer or mobile device. No matter where you go, as long as you have Internet access, you can remote into your Z-Wave system to control devices, change settings, monitor device status, and more. With Home Center 2, your Z-Wave home is limited only by your imagination!
Manages up to 230 Z-Wave devices and supports scenes
Remotely accessible via web browser or mobile device
Supports geo-localization, voice controls, and text message alerts
Free app for iPhone, iPad, and Android devices
Easy DIY setup and intuitive user interface
Plugs into outlet and connects to web via Ethernet
Advanced backup and recovery system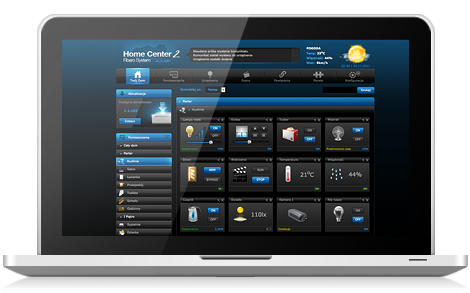 The Fibaro Z-Wave Home Center 2 makes it easy to manage a whole network of Z-Wave devices in a variety of ways. Whether you're on the computer or your smartphone, you can turn devices On/Off, create scenes and automation triggers, and take advantage of advanced settings, like geo-localization and voice control.
Triggers are simple to set up in the system's block-style interface for scene creation. You can easily automate events for any Z-Wave device or group of devices according to the weather, time of day, and even other devices.

About the Home Center Hardware
Based on the Linux operating system, the Home Center 2 runs a Linux web server and MySQL database housed in a brushed aluminum case. It features a fast, efficient Intel Atom 1.6GHz processor and large memory (1GB RAM, 2GB SLC hard drive) to ensure quick and reliable communication among all of your Z-Wave devices. The system also provides a recovery disc for easy system backups and recoveries. The disc is readily accessible anytime at the back of the unit, hidden behind the removable back panel. Because each disc is unique to each individual Home Center unit, unauthorized access is not a risk.

Installation & Setup Details
The Home Center 2 is fairly simple to set up. The unit plugs into a power outlet with the included adapter, and connects to your Internet router/modem/switch with the included Ethernet cable. All you have to do is remove the back panel, make the connections, and then snap the panel on again.

Once the unit is physically set up, you will need to log onto a computer that is connected to the same network and download the free "Fibaro Finder Application", available through the Fibaro website. This simple software will allow you to access the unit's control panel through your computer and start building out your Z-Wave system.
Contents
Home Center Unit
Power Supply
Ethernet Cable
Warranty Information
Note: Requires an Internet router, modem, or switch and active Internet service.
Innovative Z-Wave Solutions By Fibaro
With multiple award-winning products, Fibaro has become one of the leading Z-Wave manufacturers in the home automation and security industries. The company has been lauded time and time again for bringing uniquely innovative Z-Wave solutions to people across the globe. Introduce your home to your imagination through Fibaro.